Hydrating Gel Treatment-Professional Series Skin Care
This 4 in 1 product can be used as a gel moisturizer for oily skin, a water based gel for sensitive skin, a skin hydrating serum or an overnight best hydration gel mask to treat dry/dehydrated skin.
Paraben Free
Animal Cruelty Free
Dimethicone/Silicone Free
Artificial fragrance/Color Free
***NOTE*** product may show variation in color and consistency due to its ingredients.***
For extremely break out prone skin:
Cetyl (Cetearyl) Alcohol Free
Caprylic/Capric Triglyceride Free
Glucose/Dextrose/Maltose/Maltodextrin/Fructose Free
Ingredients to help Dry/Dehydrated Skin: (Humectants)
-Aloe Vera Juice
-Glycerin-VEGETABLE BASED
-Sodium PCA-powerful humectant
-Hyaluronic Acid-1000x its weight in water
-Laminaria Digita Extract-
Anti Inflammatory/Soothing/Healing Ingredients:
-Calnedula Officinalis Extract
-Camellia Sinensis (Green Tea Extract)
-Chamomilla Recutita (Matricaria) Flower
-Arnica Extract
Acne/Oily Skin/ Ezcema Skin Ingredients:
-Hydrastis Canadensis -  Natural Antibacterial Help with Skin disorders such as Ezcema, Acne
-Equisetum Arverse (Horsetail) Extract- Astringent that soothes and heals.
-Arctum Lappa (Burdock Root Extract)-Regulates Sebum Production.  Assists in normalizing skin.
Antioxidant Ingredients:
Green Tea Extract
Grapeseed Oil- Water dispersible occlusive to help moisture in without using fatty alcohol, wax esters, heavy oils for those who are extremely break out prone.
Viscosity Agent: Carbomer 940 to allow a water based product to gel without using oils , wax, etc.
If using as:
Serum-Because this products consistency is slightly thicker than most serums, if using as a serum, very little is needed. Use thinner serums first.
Gel Moisturizer- Apply on moist skin.
Hydration Mask- Apply generously over face, neck, and chest.  May be used over lips and eyelids (test patch before initial application).  May be left on overnight . 
WATER BASED GEL MOISTURIZER TREATMENT-Paraben and Fragrance Free
Can be used as a hydrating serum, hydrating moisturizer, or hydrating overnight treatment mask for ALL skin types. SILICONE FREE, PARABEN FREE, FRAGRANCE FREE
Humectants draw moisture to the skin:
Tocopheral Acetate-Vitamin E used as preservative an antioxidant
Ingredients:
Purified water, Aloe Barbadensis Leaf Juice, Glycerin,Sodium PCA, Hyaluronic Acid, Calendula Officinalis Extract, Camellia Sinensis Extract, Chamomilla Recutita Flower Extract, Arnica Cordifolia extract, Hydrastis Canadensis, Grapeseed oil, Horsetail extract, Burdock Root Extract,  Tocopherol Acetate, Carbomer,
Related Products
---
Customer Reviews
Danielle R.

United States
I recommend this product
03/04/2021
Hydrating Gel
I love this hydrating gel. It really does help hydrate my skin, which is something I desperately need living in a very dry climate.
MingLee L.

Singapore
I recommend this product
02/12/2021
Hydrating Gel Treatment
Cooling on the skin when applied, has a smell but not unpleasant. Makes the skin feel hydrated, easy to apply. Thank you for writing a note (that came along with delivery) about when to apply this gel in the skincare routine. Also used the gel on cracked skin on hand after sunburn and it is very soothing.
Carey B.

United States
I recommend this product
02/08/2021
Like a tall glass of water for your skin!!
Love this product!!
TYLA A.

United States
I recommend this product
01/19/2021
Hyrating gel treatment
Tips and tricks that work for me! 1. I keep it in the fridge for cooling effect on hyperpigmentation 2. Pat pat pat on moist skin, rubbing mixes with other products 3. A pea sized amount is enough to avoid over hydrating. 4. Seal with an emollient at night 5. I use it with everything.
tyla a.

United States
I recommend this product
01/19/2021
Hydrating gel treatment
If you are looking for an all around product for skin that needs lightweight or minimal skincare, this is it. I use this as a layer of hydration under my emollient cream it seals in the moisture. A layer of hydration with my tretinon, retin A and a ceramide cream. Under my sunscreen if i want a lightweight feel. This has been a life saver for me. I use a hydrating face wash plus the hydrating gel then i seal it in with aquaphor. This beats the overhydrating 7 step method for me. Your skin can get lazy and forget how to hydrate itself or get confused and over hydrate but this is the perfect balance. If you buy anything from christy, you have no reason not to try this....your face will always need moisture.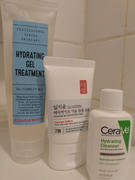 01/20/2021
Go See Christy Beauty
Wow! Tyla! I normally don't read my reviews unless they are forwarded to me. I am so glad that you are loving the product! ; ) Thank you again for purchasing ! Happy New Year!